Japanese
|
Korean

---
An animated nature
Joyo area is quite pleasant, and the climate is fairly mild and blessed with a fluent and clean underground water and a rich crop. The harvest of each season is abundant and there are many special products. The natural world also gives us a fresh and vivid impression for every season.
| | |
| --- | --- |
| the City Flower:the Iris | the City Tree:the Plum Tree |
Fertile soil
Joyo is a very productive land, with fertile soil, which Kizu-gawa river carried in, and a hilly region that spreads to the east.
Delicious vegetables and fruit can be harvested within the city.
Flowers and trees are also abundant.
| | |
| --- | --- |
| the Sweet Potato | the Fig |
A constant flow of water
Joyo is also blessed with large resources of underground water.
In the west, Kizu-gawa river, a first class river, flows leisurely through the land. This combined with rich underground water moistens the farms and rice fields. This allows Joyo to harvest a large crop of rice, plums, figs and irises which are the city flower.
| | |
| --- | --- |
| Kamo-Dani Fall | Kizu-gawa River |
Play, laugh and relax
Konosu-yama-undo-koen is about 16 hectors in total area and is located
at the foot of a rich green Konosu-yama mountain.
It is the sports and relaxation zone where everyone can use freely no matter their age. In a recreation zone,there is a place of amusement,the Fort Vancouver,etc. Here, you will be able to come across smiling faces and the sound of laughter.
| | |
| --- | --- |
| Winter illumination | Recreation zone |
Place for Impression, Creation and Frienship to be shared
Bunka Parc Joyo(Joyo Cultural Center) has many function and public facilities ; Grand Banquet Room, Library, Community Center, Folklore Reference Center etc. The citizens of Joyo take part in various events such as a concert or an exhibition which will be offered at the center.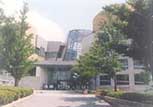 Bunka Parc Joyo
Sanga Town Joyo
In Joyo there is an official training field for the Kyoto Purple Sanga, professional soccer team. We can watch the players as they train at the field. Also there is a Futsal Field, where anyone can play for free.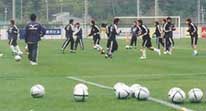 Sanga Town Joyo(official training field)
Let's taste the specialty of Joyo
Joyo's products, various fruits and vegetables are nice to eat fresh.
But by cooking them just a little, you can enjoy their taste more effectively.
| | |
| --- | --- |
| Umeboshi(Pickled Plum) | Simmerd Fig with Wine |
---